Justin is a dedicated father who wants to
teach his children about Bee Conservation
. He searched the web and App stores for an easy way to learn more about bee conservation. He is
surprised
to find
several sites that discuss bee conservation
, but
none listed all the ways
he could help save the bees
in one easy-to-use app or website
.
January - July 2022
1 In 3
bites of food are
pollinated by bees
, and bees have become
endangered
due to
loss of habitat
and
pesticides
. I was inspired to create this website and mobile app to
help
those
concerned about bee conservation
find
easy ways to help save bees
.
Create a dedicated mobile app and responsive website that will
make it easy
for Justin to find out what he can do
to help save the bees
.
UX designer:
Lead the app and responsive website design
from conception to delivery.
Conduct interviews
,
paper
and
digital wireframing, low
and
high fidelity prototyping, conducting usability studies, accounting for accessibility, iterating
on designs,
determining information architecture,
and
responsive design.
Bees
are an
integral part
of our
environment
; without bees pollinating our food,
our food supply
could become
endangered
. If we do something to
help preserve bee habitats now
, we can
prevent bees from becoming extinct
and
conserve
our
food supply
. Understanding the needs of people like Justin who are concerned about bee conservation helps me to create an easy-to-use dedicated mobile app and responsive website that will make it easy to find out what you can do to
help save the bees
.
I created
two personas, Petra
and
Justin
, to guide me through the design process. 
Petra is a
busy RN
who needs
an app that will give her insights
on what she can do to save the bees because
she wants to do all she can to save the bees
.
Justin is a
dedicated father
who needs a quick, easy way to find out if he is doing everything he can to save the bees because
he has kids to wrangle
and needs to
find the information as quickly as possible
.
In my competitive audit, I found
several Bee conservation sites on the web
, but
none listed all the ways
people could help save the bees in
one easy-to-use app or website
. 
I did a quick ideation exercise for
ideas on how to address gaps identified in the competitive audit
. Specifically, on
how to create a bee sanctuary
, I found that a list of steps worked best. 
After sketching paper wireframes, I
moved into Adobe XD
and began designing my digital wireframes and low-fidelity prototypes. My goal was the
ease of use
; I found in my research that
my user flow was confusing
. Feedback from users helped make it more user-friendly.
I changed the page title from
What YOU can do
to a clear
You Can Help
.
I
Moved
the Build a Bee Sanctuary above Flowers That Attract Bees for a
clear user flow
.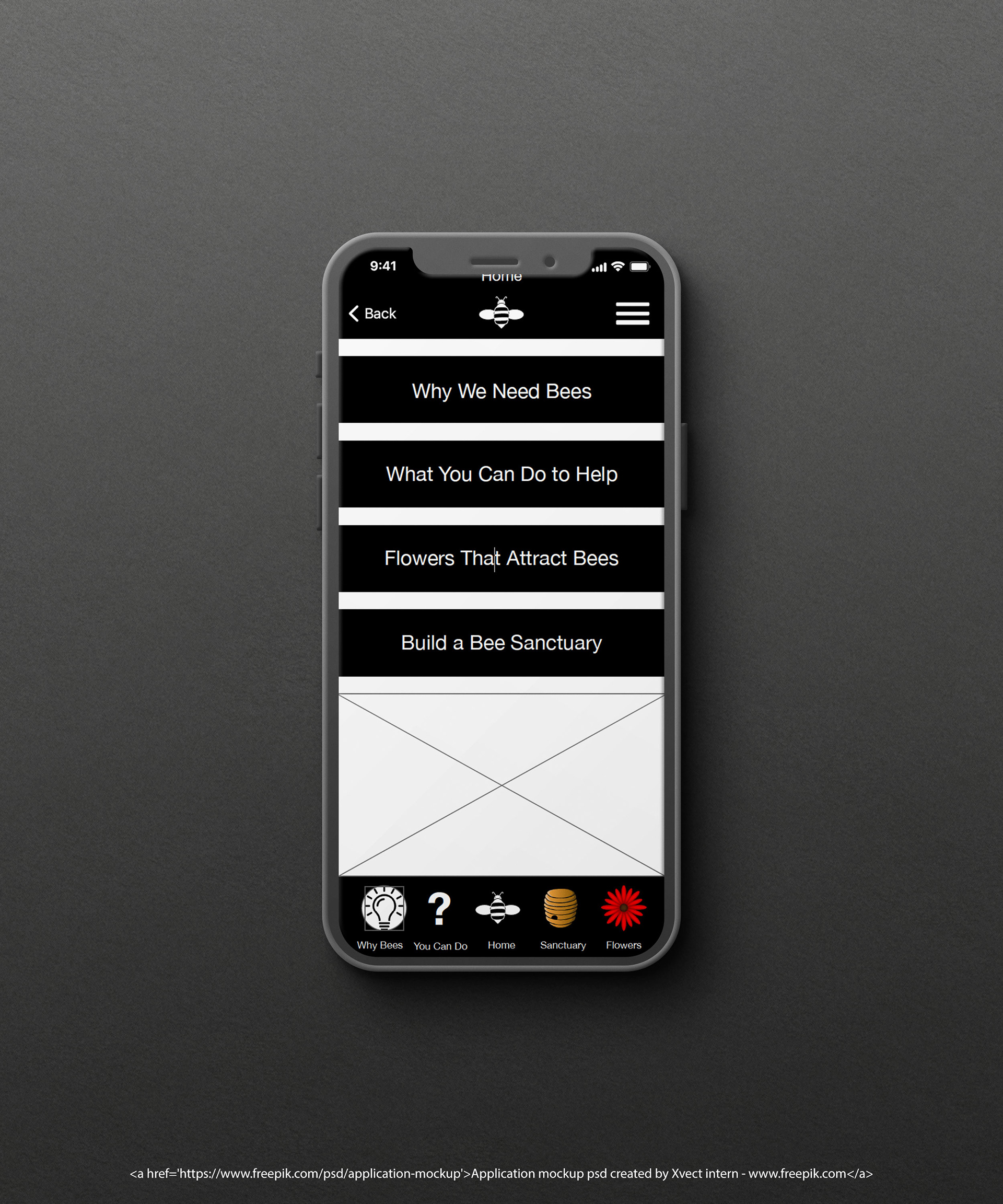 Scenario
=User wants to know what they can do to help save the bees.
User Feels
= Excited, a little overwhelmed 
My goal for the user
=To help them quickly find out what they can do to help
Tone=
Friendly, helpful, clear
In the low-fidelity prototype,
users were confused about What You Can Do and Build a Bee Sanctuary
; I found
switching their location
and
changing the wording
made things
less confusing
. 
Link to low-fidelity prototype: 
Usability study: parameters
I conducted
two moderated usability studies
, one on the low-fidelity design and the second on the high-fidelity design.
Covington, Kentucky
Five participants, three with low vision.
15 minutes
I conducted two moderated usability studies at my home in Covington, Kentucky.
I assumed the app was easy to use
. I discovered
it was confusing
,
inconsistent
, and
hard to navigate
. Feedback received through research showed that users would be willing to work towards saving bees if they had access to an easy-to-use tool that would
guide them through the process
.
Based on the
insights
from usability studies. The
user flow was confusing
; I needed to
change
the
wording
and
location
of the links to clear things up.
Additional user research
found that
pricing was inconsistent
; I added pricing to all detail screens.
Before the usability study                                                       After the usability study
Before the usability study                                                      After the usability study 
Links to High fidelity prototypes:
Accessibility Considerations:
All type is
14 points or more
, except for the image credits.
Low Vision and color blindness: 
Contrasting colors
are used throughout the design 
Alt text
is provided for all images.
With app designs completed, I started work on
designing
the
responsive website
. I used the BEE AWARE
sitemap to guide
the
organizational structure
of each screen design to ensure a
cohesive experience
across devices. 
The responsive website and mobile app are
simple to use
and are an
easy way
for users can
find ways to become involved in the bee conservation effort
. It
prevents bees from becoming extinct
and
strengthens our food supply
.
Users shared that the app made
bee conservation
something that
they could easily do
. 
One quote from a user was:
"I believe in BEE AWARE;
it's pretty
impressive and easy to follow
." ~Cristian Wolf
I learned
what is clear to me is not necessarily easy for everyone
. I needed to
make the links on the home page
clickable
all around the words, rather than just making the words clickable. That the
pricing was inconsistent
, and the
wording
was
confusing
. I learned that
attention to detail is paramount before testing.
Add more
educational resources
for users to learn about bees and their conservation.
I am satisfied with how it turned out. I will show the app to a few Bee conservancy sites and see if they would be interested in using it.
If I find a site interested in my design, I would make any necessary changes and send it to the developers to code.
Thank you,

For reviewing my BEE AWARE App and Responsive Website!